A friend in my small group made this one night and I fell head over heels.

I have a thing for cilantro.

A very serious crush you might say.

Add avocado to the mix and you have a steamy love affair.

This salad is so simple.

So fresh.

So delicious.

So perfect for summer.


Salad:
Romaine (chopped)
Red & yellow bell peppers
Purple Onion
Can of black beans (drained and rinsed)
Can of corn (drained well)
Black olives (drained well)
Fresh cilantro (chopped)

I added the following ingredients as I plated the salad to avoid wilting or browning:
Diced tomatoes
Fresh sliced Avocado

Creamy Cilantro Lime Dressing:
2 Tablespoons chopped cilantro (fresh)
1/2 cup low fat or fat-free sour cream
1 1/2 tablespoons lime juice
1 teaspoon granulated sugar
1/4 teaspoon ground cumin
1/4 teaspoon chili powder
(you can even add a smidgen of cayenne to this is if you like some heat)

Feel free to add a bit more cilantro, sour cream, sugar, or lime to get it to taste the way you prefer. It is a very forgiving recipe. I needed a fairly large salad so I doubled the dressing recipe. I prefer less lime and a tad more sugar so I played with it.

Process all of this in a blender and drizzle over salad.
I found these tortilla strips at my local Kroger and they were fantastic on this salad!
I also think this dressing would be so good drizzled over grilled shrimp.

Enjoy!



Linking this recipe up here: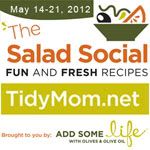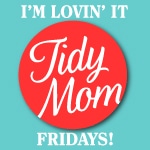 And Mingle Monday with Robyn:
Tatertots and Jello Weekend Wrap Up
"My every mortal breath, is Grace and nothing less"