"When it comes to life the critical thing is
whether you take things for granted
or take them with gratitude."
-G. K. Chesterton


As I sit down to think and write about the gift of a New Year, I can not help but look back on the resolutions made this time last year.

While I may have been successful at accomplishing some of these goals...

Losing 25 pounds.

Seeing others throught the eyes of Christ and putting their needs above my own.

Getting a pedicure.

Cutting back on my time spent on computer.

Loving my kids more intentionally.

I also see numerous things I did NOT accomplish within the year.

I look at that list and feel frustration when I see those goals that seem to be unattainable.

Year after year.

Why is it that in light of all the accomplishment I have behind me in 2010...

So many blessings bestowed on me...

So much to be thankful for...

It is still not enough.

I'm left wanting more.

Longing to be filled up.

Drink from His cup.




------------------------------------------------------

Why do I continue to wrestle with not loving my husband like I should?

Why am I still promising to make more time for God year after year?

Where is my desire to have communion with Him the way I should?

Why after five years do I still question my ability to succesfully teach my children here within these four walls?

Why am I still struggling with worry and fear and doubt if I am so aware of the grip this infamous trio has on me?

Why am I still discontent with what I have?

Skimming through blogs wishing I could decorate, sew, cook, or homeschool my children even like so many others.

Why do I still lay my head on my pillow at night feeling like a failure as a wife.

As a mother.

A teacher.

Friend.

Why do I walk throughout my day worrying over a mental list of things I "need" to do that simply have no significance?

Failing to see what is right in front of me in the moment.

A smile.

A laugh.

An a-ha moment during Math.

Missing out on the rich gifts God graciously lavishes on me every single day.




----------------------------------------------------

I have been reading "1000 Gifts" by Ann Voskamp and it is literally wrecking life as I know it.

Transforming my every single moment of the day.

It's that powerful.

It is also a complicated read for me.

Kinda like the book of Job.

Fascination meets trepidation.

I love that story God.

That's amazing God.

But please don't ask that of me God.

Please do not test me in this way.

----------------------------------------------------

Through the words on these pages I have experienced a startling awareness of what I have been lacking.

Something I lost my grip on along the way.

Something the enemy has been all too eager and willing to snatch from me.

A deficiency of the soul.

The answer to all those "whys".




Joy.

A small word really.

Read it a million times.

Never fully understanding the significance.

It is everything.

It is essential.

Without it I am restless.

Discontent.

Full of carnality.

Ugly.


The foundation of joy?

Eucharisteo.

It means "Thanksgiving".

"But giving thanks is a sacrifice that truly honors me. If you keep to my path, I will reveal to you the salvation of God." Psalm 50:23

Joy is divinely connected to thanksgiving.

When I reach that place where I can give thanks in all circumstances I experience Him in His fullness.

His joy.




Why does my marriage feel so empty at times?

I fail to be thankful for all that my husband is and choose to focus on all that he is not.

Why do I feel so discontent?

I fail to unwrap and accept the gifts God has already given.

Placed right in front of me.

I choose to place the gifts I want on a wish list.

Why do I doubt my ability to successfully teach my children?

Because I let the world's definition of success creep in and define what I am doing here.

I compare my kids to other kids.

I compare myself to other moms.

I forget that this is not simply a choice we made.

But a calling we accepted.

I forget that His strength has always been enough.

"My grace is all you need. My power works best in weakness." So now I am glad to boast about my weaknesses, so that the power of Christ can work through me. 2Corinthians 12:9

I lose sight of the goal here.

Not to raise Harvard graduates.

But to raise children that fear the Lord.

Point them to Him.

Teach them His word.

To have compassion for others.

To be hands and feet.

Love with His love.

Point nations to Him.

Why do I worry?

I forget that God is sovereign.

That He alone knows me best.

Intimately.

He alone holds my world in merciful, loving, powerful, all knowing hands.




I choose to take on arrogance.

Think that somehow I am better suited to be in control.

Withholding from Him those things that I clutch closest to my heart.

Full of fear that He may take them from me.

Fear that He will ask me to raise my hands like Job and say "Blessed be Your name".

Truth be told I am terrified even as I type this.

Why is He revealing this to me?

What will He expect of me now?

Why do I have no time for the time giver?

I fail to see the time He gives as a gift.

Never unraveling the ribbons...

Removing the lid...

Cherishing the fragile contents in my hands.




I choose to fill time with things that simply do not matter.

Cleaning.

To-do lists.

Schedules.

Pleasing others.

Lesson plans.

This blog.

My agenda.

---------------------------------------------------

I was inspired by Ann to begin "naming" my years.

Love this idea.

And this year will be "The Year of Joy"

Eucharisteo.

I name it.

I declare it.

I claim it.

Restore to me the joy of your salvation, and make me willing to obey you. Psalm 51:12

My one and only resolution this year is to live a life of intentional thanks giving.




To live fully.

To be all here.

Hands raised to bless His name.

Giving thanks when He gives.

Giving thanks when He takes away.

In each and every moment.

To not only accept the gifts I am given.

But to baptize them in ink and put them down on paper.

"Because all of life flames with God." -Ann Voskamp

And I do not want to miss one bit of Him.

--------------------------------------------------

Every Monday I will come here and work my way towards listing 1000 gifts.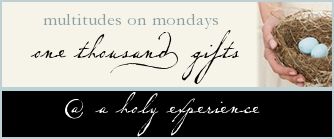 #1-10

Dogs that insist on jumping into bed with us

The hum of my humidifier as I sleep

Street lights that cast shadows on my bedroom wall at night

Boys that share a room and conversation

My tattered old pillow beneath my head

Dogs that insist on jumping in bed with my children and staying there all night by their side.

Gray hair that tell of 34 years of life

A headache that lets me know I'm still alive

Ticking of clock on living room wall in still of the night

My Grandma Margaret's handmade blanket to cover up with on my couch


"My every mortal breath, is Grace and nothing less"