I've spent this week consuming 1000 Gifts by Ann Voskamp.

Marinating in newfound truths.

Knee deep in praise.

Heart full of gratitude.

For all I have.

For all I don't have.

Eyes that were blind.

Now see.

Restless heart.

Content.

It has not been easy.

Old habits die hard.

Flesh creeps in.

But I have tasted.

I have seen.

He is here.

His joy.

Chara.

Every moment.

Every detail.

In the still.

I AM is here.


11. Husband that provides for me fiercely

12. Teenager that remembers to wear his retainer

13. Blue on the weather radar

14. Blankets with plugs

15. Friends that call me

16. Hot tea steeping

17. Butterflies when husband comes home

18. House that shows signs of life

19. Smiles adorned with braces

20. Snow days


I invite you to join me.

I encourage you to search out the moments of your day.

Look for Him.

Find Him.

In all things.

Then put it to paper.

Name it.

Give thanks for it.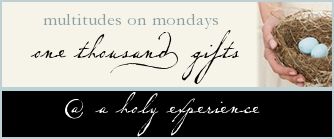 "My every mortal breath, is Grace and nothing less"